Masco Appliance and Air Conditioning has been a family business since its beginnings in 1952—when South Florida was still mostly farmland—by a Miami man who fixed appliances in the neighborhood. His garage was his workshop.
In 1970, he took on a young neighbor who was looking for work, teaching him everything he knew about washing machines, refrigerators, dishwashers, and the newly popular microwave ovens.
A year later the young apprentice, Randy Mock, bought Masco Appliances with the help of his father-in-law. Then he hired Rick Dillman, a friend he'd met in technical school, as his head technician. They rented a little shop just behind Lester's Diner in Davie, Florida.
As the city of Fort Lauderdale became built out, the population moved west. Neighborhoods around Masco's little shop grew into big cities. Federal Highway, a two-lane road when Randy bought the business, was now a busy thoroughfare. I-95 was under construction. The nearby Hollywood Mall, built in the 1970s, became the first air conditioned, enclosed shopping plaza.
Everyone, it seemed, was moving down to South Florida. They all wanted new appliances and air conditioning. Masco's phone was ringing off the hook.
Rick became a partner. They added more trucks and more technicians, and moved to a bigger location in Northwest Fort Lauderdale.
They got to know the appliance dealers in the area as they expanded service to neighboring Palm Beach and Dade counties. Their expertise, which began with Admiral appliances, grew to encompass Whirlpool, Maytag, Amana, Thermador, Bosch, and many other brands.
The partners had always tinkered with air conditioning repair and in 1984, became a state-licensed air conditioning contractor.
Masco Appliance and Air Conditioning Today
Today, Masco's home is still on NW 31st Avenue. It now has 15 trucks and 10 technicians—all of whom are continually trained in-house, and in classrooms, on the latest appliance technology.
Randy and Rick are still at the helm, backing up the work of their multilingual techs, and offering their customers their many years of experience and industry knowledge.
"We've become a big shop, but we still treat our customers like family," Randy says.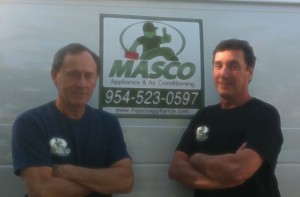 Rick adds that they have stayed in business a long time by earning the respect of their customers and the companies with whom they do business.
"We've never advertised. We have grown our business by word of mouth," Rick says. "That has always been a source of pride for us, but it also carries a big responsibility. It means we always have to be accountable to our customers."
Masco Appliance and Air Conditioning's philosophy is simple: We stand behind our work—and our workers—and we believe that a happy customer is our greatest asset. We can fix anything, from your central air conditioner to your top-of-the-line refrigerator.
Customer service—and customer satisfaction—is the No. 1 priority of every Masco Appliance and Air Conditioning employee.